Morning Troops!
So glad we all emerged from Gonzalo without any serious injuries – what a scary night though!  I for one am really looking forward to a storm-free weekend.  Here's the latest line-up of what's happening in Bermuda: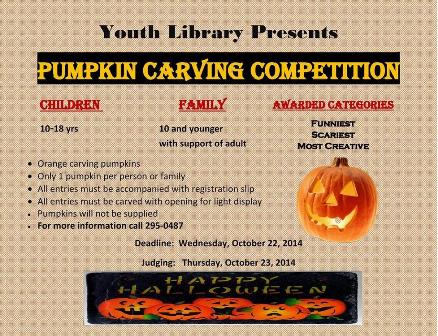 Try your creative hand at pumpkin carving and see if you can win a prize.
The deadline for the Youth Library's Pumpkin Carving Competition is on Wednesday, October 22nd, with judging the following day.
Categories are for children aged 10 to 18 years and for families of children aged to and under with the support of an adult. Prizes will be given for the funniest, scariest and most creative pumpkin.
Entry forms can be picked up from the library.
For more information, contact 295-0487.